Thirteen Fascinating Facts About ...ME!
(can you feel a punt coming on?) (okay, I'm tired and cranky and it's hot and humid)
1. I'm 5'11" tall.
2. I was born in San Luis Obispo, CA.
3. I skipped 4th grade.
4. I dated The San Diego Chicken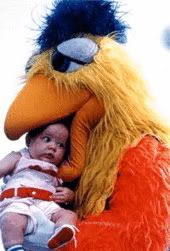 5. My first political campaign work was for Robert Kennedy, 1968; ten years later I worked for one of his speech writers.
6. I own 3 Brenda Starr dolls; 2 Anne Estelle; 3 Ellowyn Wilde; and 5 Maleficent dolls and figures. I still have my original Shirley Temple doll from 1959.
7. I cannot do a cartwheel; I can't touch my toes.
8. I collect books I loved as a child, for example: Cowboy Sam series; Gone Away Lake; Five Little Peppers; Seventeenth Summer; and many others.
9. I've been to Paris six times. Once a stranger stopped to talk to me while I was walking down the street. Then, he grabbed my hand and "kidnapped" me to dinner. Talk about fabulous nights!
10. I still have my tonsils.
11. I was on the girl's golf team in high school (also tennis, softball, and hockey).
12. One foot is size 10 and one foot is size 10.5 -- what size should I buy if nobody makes 10.5?
and.... finally...
13. I once served on a Federal Grand Jury for 18 months. Oy -- talk about a waste of time and taxpayers' money..... but that's another story, my dears.